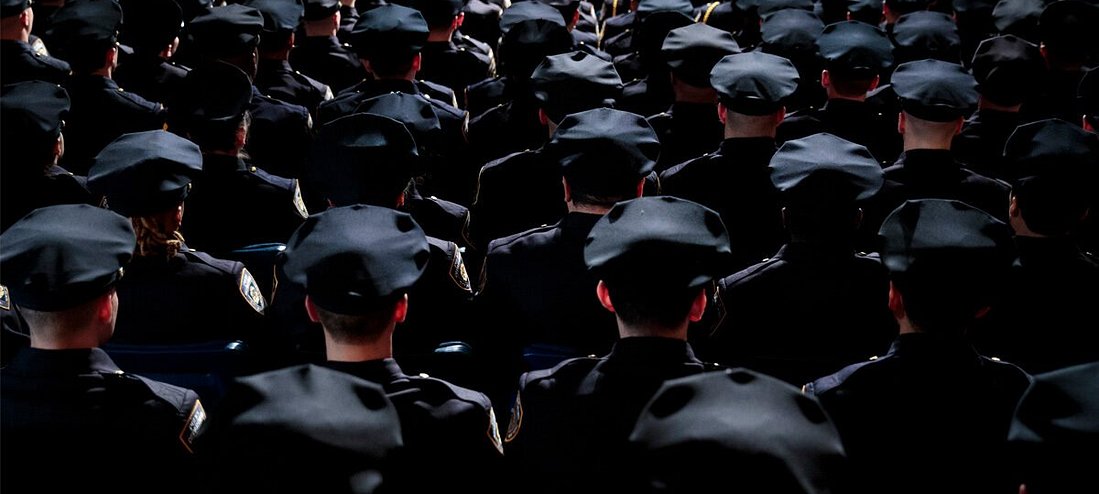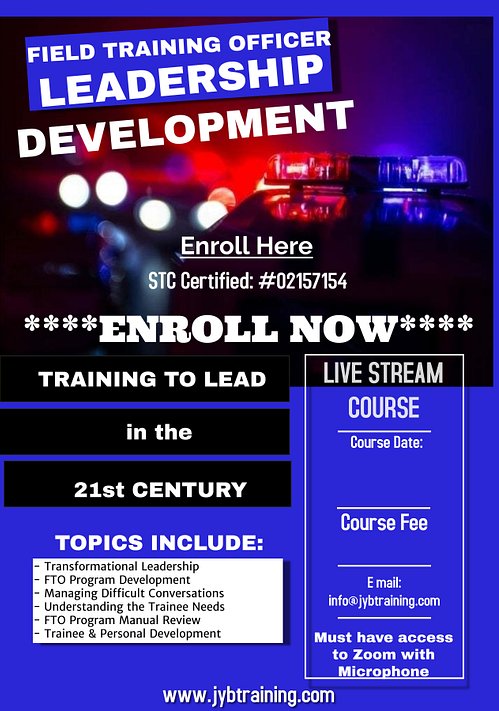 FTO LEADERSHIP DEVELOPMENT
**Group Discounts Availible For 5 Or More**
Created specifically to address the needs of experienced FTO's, this course will re-energize and focus Field Training Officers that have experience training and evaluating trainees in the fields of Patrol, Corrections, and Communications.
This will provide advanced remedial training techniques, insight into human behavior, discussions on leadership vs management, the FTO's role on socialization and the importance of proper documentation.

Our (4) or (8) hour courses are STC Certified and covers such topics as:
Transformational Leadership

Remedial Training Techniques

FTO Program Development

Liability Reduction

Career Survival

Understanding the Trainee Needs

Personal Values vs. Department Values

Trainee & Personal Development - Growth Mindset

The Power of Empowerment

The Importance of Credibility
Going even further beyond the basics of Field Training, our course will also provide insight on the various concepts and methodologies surrounding the idea of managing an FTO program. How can the FTO or the unit manager have influence over program productivity and efficiency? In what way can the FTO improve upon their own performance? How crucial is the culture of your FTO program to department-wide ethics and How can you tie up loose ends in the realm of liability to avoid costly law suits, all while giving the student a glimpse into managing the FTO and the FTO program.
This class covers such topics as Generational Leadership, Standardizing Evaluation Guidelines, Adult Learning, and Ethics. Each block of study is directed at the trainer, and ways to improve their teaching, work product, and approach to today's Officer In Training. Information includes motivating different generations of trainees, career survival for the FTO, and case law review pertaining to evaluations.
Who should attend: Law Enforcement, Correctional Officers, Jailers, Probation Officers, School Resource Officers, Park Rangers, Campus Police, Firefighters & Communications.
Seating limited to the 1st 25 applicants, no exceptions. This class will sell out and it will sell out quickly.
Please make all checks payable to: JYB Training Solutions
We also accept all major credit cards.
For questions regarding payments and invoices, please e mail info@jybtraining.com
January 16, 2023 8:00 am - 5:00 pm (PST) ****Course Full****
January 18, 2023 8:00 am - 5:00 pm (PST) ****Course Full****
January 25, 2023 8:00 am - 5:00 pm (PST)
February 1, 2023 8:00 am - 12:00 pm (PST) ****Course Full****
March 1, 2023 8:00 am - 5:00 pm (PST)